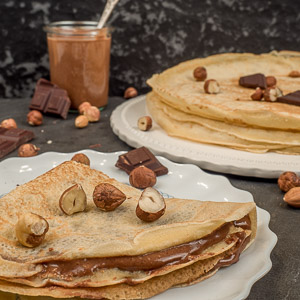 I share with you a family recipe; this is one of my first memories of cooking!
French Crêpes are perfect because:
making crêpe batter is fast

everyone can cook their own, so the work is evenly distributed

everyone garnishes them to their taste
FUN FACT. In France, for the salted version, would you say Crêpe or Galette?

You can absolutely say both! In France, it depends if you are in Lower Brittany (generally west of Saint-Brieuc and Vannes), where we say Crêpe, or in Upper Brittany (therefore in the East), where we say rather Galette!

But the recipes differ: the Crêpes contain milk and eggs while the Galettes contain only water, flour and salt (and are therefore completely vegan in addition to being gluten-free). But beware if you talk about Galette in Lower Brittany, you will rather be given a good butter cookie!
INGREDIENTS for buckwheat Crêpes – salted (for 15-20 Crêpes):
250gr of buckwheat flour

4 eggs

1 teaspoon of salt

200g of milk

500g of water
INGREDIENTS for wheat Crêpes – sweet (for 20-25 Crêpes):
500gr of wheat flour

4 eggs

40g of sugar

1 teaspoon of salt

200g of beer

500g of water
RECIPE (the process is the same for both recipes)
Put all the solids in a bowl (flour, salt and possibly sugar)

Pour the milk (salted version) / beer (sweetened version) in the middle and whisk hard until the mixture is smooth.

For the sweet version, add a flavor here if you wish (fruit alcohol: cognac, rum, orange blossom water, etc.)

Finally dilute with water.

Let stand at least 2 hours.
NOTE. Rest is not mandatory; you can make your Crêpes or Galettes immediately. However, rest allows proteins to develop and will make your Crêpe or Galette more flexible.
COOKING
Everything is allowed, if you do not have the famous "billig", even a simple non-stick pan will do the trick. No pressure, it is a commonly accepted rule to miss the first one (a Breton saying says that it is for the cat, for the dog or for the innocent of the house). However, I have noticed fewer failures when I oil the pan well the first time and when the pan is really hot.
FUN FACT. The first Crêperies opened in 1920, people went there with their own cheese and ham. I also learned, when writing this recipe, that one of my grandfathers was going to the Crêperies as a child alone with his egg!
TASTING
For the salted version, the most common in France is the "complete" with ham, cheese and an egg. But everything is possible: ratatouille, sausage, salmon …
TRICK. Salted pancakes can be frozen! They will even be even more flexible after thawing. An idea for a cold meal: garnish and roll the salted pancake like a wrap with what you have or what makes you happy, just accompanied by a salad and it's perfect!
For the sweet version, simply butter (semi-salt, if we stay with the theme) with sugar, or caramelized apples, citrus fruits, some jam, spread…
IDEA. To keep the children occupied while making them happy, make a pancake cake: each time you have cooked a pancake, place it on a plate, the child spreads the pancake with what you have chosen, then you place the next on and so on. At the end, you have a pancake cake, fantastic for an afternoon tea!
Photo credit Nicolas Girodon-Déniel