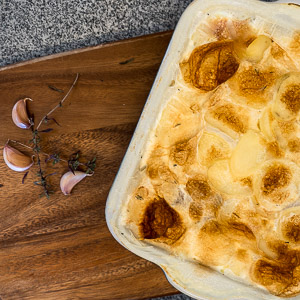 A great classic dish in France, and as with each specialty, 100 different recipes for 100 Dauphinoise families!
HISTORY. The potato tuber comes from Peru, where it has been consumed for more than 8000 years. It arrived in Europe during the 16th century following the discovery of Latin America. The potato tuber was not immediately successful in France, from where it arrived from Switzerland. This explains why it became a specialty of Dauphiné (which today corresponds to the departments of Isère, Drôme and Hautes-Alpes). And especially from the land of the Four Mountains, in the Vercors (southwest of Grenoble).

CONVENIENT. Today there are more than 10,000 varieties of potatoes, but the ones we know / grow are classified in (almost) 4 categories:

AT . firm and not very floury flesh (Charlotte, Belle de Fontenay, Amandine for example)

B. melting flesh (Agata or Monalisa for example)

C. floury flesh (Agria or Bintje for example)

D. very floury, which we do not use in our kitchens

and all in-between: AB, BA, BC, CB, CD, DC
INGREDIENTS – for 4-6 people
1kgr of potatoes

250gr of whole milk

200gr + 100gr of whole liquid cream

salt

[optional: 1 garlic clove, nutmeg / pepper]
CHOICE OF POTATOES. The classification of potatoes mentioned above will unfortunately not help us here. What you need for the gratin are starchy potatoes.

The starch is also contained in flour and is used as glue and to thicken sauces.

New potatoes – or early potatoes – do not contain them, so you should use"old" potatoes.

And there is no classification of potatoes in relation to the starch they contain … So we have to experiment and remember which ones have worked.

Those which are known to work in gratin:

Monalisa – for a fondant gratin (category B)

the Bintje (cat. C)

Agria (cat. C)

Nicola – for a firm gratin (cat. A)

Belle de Fontenay – for a firm gratin also (cat. A)

Charlotte – for a gratin with a softer, sweeter taste (cat. A)

NOTE. No need for cheese to brown, but it will bring a crispy consistency.

NOTE 2. You can, according to your preference, increase / decrease the proportion of cream: it is enough to make sure that the total final weight of milk + cream remains equally the same.
Preheat your oven to 150 ° C.

Wash the potatoes with their skin.
NOTE. We won't wash them after that to keep the starch level to the maximum. It's the starch that allows the connection with the cream.
Peel the potatoes and cut them into strips (if possible regular, the thickness of a piece of € 1 or CHF5).

If you put some garlic, you can either divide it between the layers later, or rub the dish with it now.

Butter the dish (so that the starch does not stick too much to the edges of the dish).

Spread a layer of potatoes. Salt. [Add a little garlic if you chose this option, you can also season with pepper or nutmeg]

Repeat until you used all the strips.

Pour the milk and the big part of the cream, you should be at level with the potatoes.

Cook for 1 hour.

Pour the rest of the cream and cook for another 30 minutes.
NOTE. It is the slow cooking that makes the particularity of this gratin, the potatoes are candied in milk and cream …

VARIANTS. The recipe of the country of the four mountains does not use milk, eggs or Swiss cheese. Therefore, the recipe I am proposing is not completely faithful, but a little less rich.

Some people use eggs for binding, or cheese for gratinating, and it's far from prohibited:

Joël Robuchon did not use eggs, but gruyère

Fernand Point used eggs, but no gruyère

Paul Bocuse and Auguste Escoffier used eggs and gruyère

IDEAS. Some ideas for changing from time to time:

add cheese to add crunchiness (beaufort, gruyère, etc.)

add a fondue of white leeks, onions

add fennel in strips for a "fresher" taste

instead of putting cream and milk, for a less rich version, put white poultry stock (and slightly melted onions) for baking potatoes

NOTE. You can prepare the gratin the day before for the next day. Just put it to warm to 150 ° C for 15-20 minutes before tasting it.
Photo credit Nicolas Girodon-Déniel